Mud & Memorials
15th June 2018

-

31st May 2019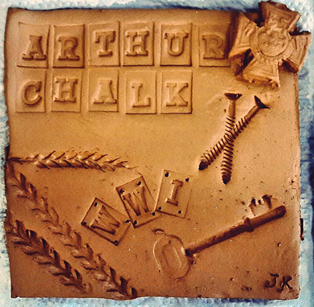 The Great War ended one hundred years ago, and soon War Memorials were built in all of the local villages to commemorate and remember those that did not return. One hundred years on the "Mud & Memorials" work-shops organised by the "Back to the Front" Project will create a modern War Memorials at Abbots Langley and Bedmond, made from over two hundred clay tiles individually crafted by students from local schools, and erected a century on, in 2018.
Each clay workshop will enable students to work with a material directly related to the conditions suffered by soldiers during the War. With every student producing unique work, it is hoped that this will be a reflection of the many, many individual stories of those who perished.
Update
The installation of the new Mud & Memorials Project's War Memorials has been delayed. Issues with finding a suitable location for the Abbots Langley memorial have now been resolved and it will be installed on the wall of the Abbots Langley Club in Trowley Rise. A second memorial will be installed on the wall of the Bedmond Village Hall. It has taken longer than planned for all of the tiles to dry, to be fired, glazed and re-fired, but this work is now almost complete, and planning is underway with Barnes Construction of Abbots Langley for the final installation and unveiling, which is hoped to be complete by Spring 2019.