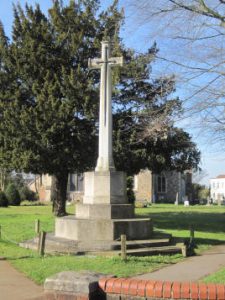 The Abbots Langley War Memorial is sited in the grounds of the St Lawrence Parish Church in the centre of the village. It was unveiled on 21st December 1919 by local clergy and dignitaries. The Memorial was funded by local subscription and donations from eminent residents. The Memorial was designed by Sir Reginald Blomfield, who was commissioned by the Imperial War Graves Commission, and who also designed the Menin Gate Memorial at Ypres. The Abbots Langley Memorial includes Blomfield's famous Cross of Sacrifice, a design which is widely used elsewhere both in Britain and at Memorials throughout the world. The Memorial was constructed by HT Jenkins & Son, and lists 81 men. The men are identified alphabetically on the eight-sided Memorial, and on each face are listed in order of rank – this is very unusual as normally the individuals are listed purely in alphabetic order.
Over the years the Portland Stone had weathered making it very difficult to read the inscribed names. In 2013 the Abbots Langley War Memorial Fund raised sufficient funds to initially clean the inscriptions and subsequently to renovate the Memorial.
The "Back to the Front" Project has identified 28 more men who are not currently included on the Memorial.